Maril 7NXT
Classic with a modern twist
Dimensions
7.50 m x 2.85 m
Unique detail
Passage in the stern
Maril 7NXT
from € 59.900,-
De 7NXT: Classic with a modern twist
The familiar steep bow with the pierced cable fender of the Maril 6NXT is also found in the Maril 7NXT and gives the sloop a special appearance on the water. This exceptionally stable and stylish sloop is equipped with all the necessities for optimal enjoyment on the water.
Electric sailing with the Maril 7NXT
With the Maril 7NXT you can sail fully electric, thanks to the electric motor of Waterworld Electronics. The specially designed technologies ensure a carefree time on the water. Electric sailing brings a number of advantages, because you sail environmentally friendly, quiet and emission free. Read more about electric sailing here: elektric sailing.
The Maril 7NXT is standard equipped with a 27 hp diesel engine and available up to 110 hp.
Many luxury extras on board
In the front of the sloop is a lockable toilet area for extra privacy. In addition, you have the possibility to equip the sloop with a sun bed, cooler box, sink and stove. So you have everything you need for a pleasant day on the water.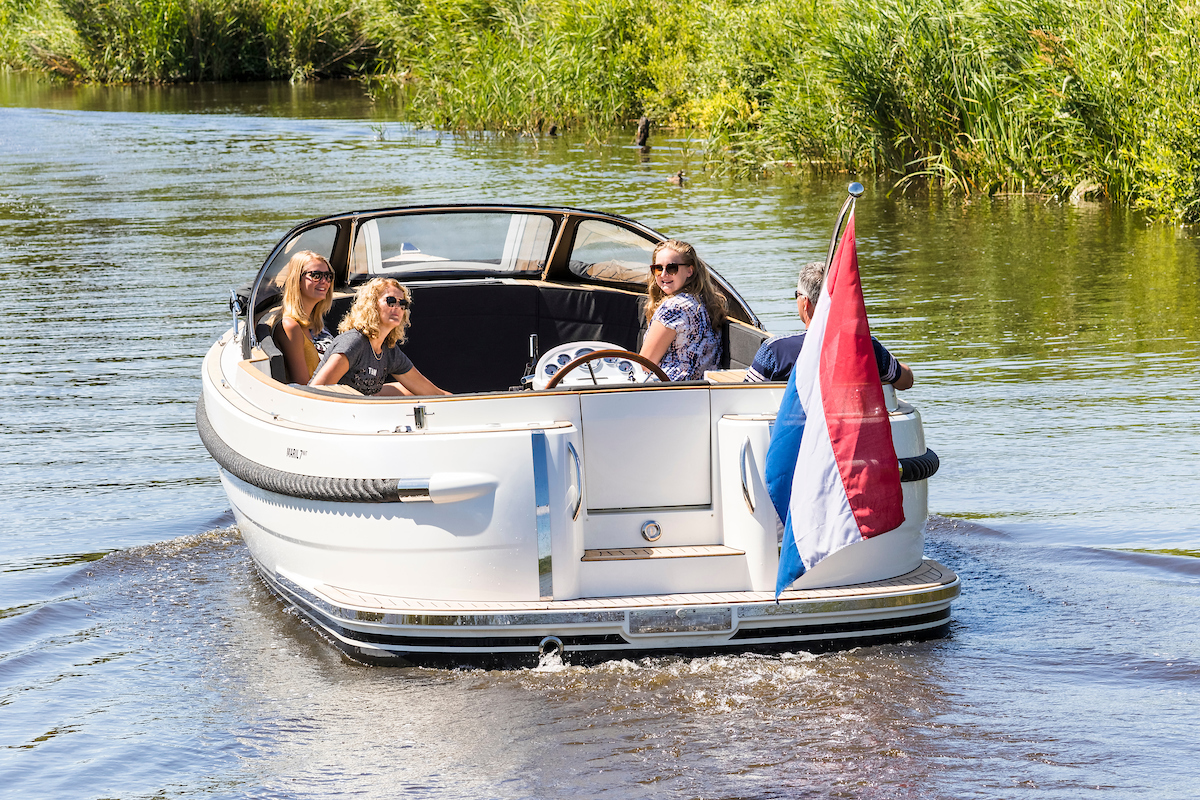 Classic design with a modern finish
The Maril 7NXT sloop has a length of 7.50 m and a width of 2.85 m. These dimensions, combined with the flat underwater hull, provide a great deal of stability and sailing comfort. At the back of the transom, the sloop has a passage which provides access to the integrated swimming platform. This is extremely functional during swimming, to easily climb in and out of the boat.
Specifications Maril 7NXT
See all the specifications of the Maril 7NXT below
General

Sloop draught

approx. 0.80 m

Sloop clearance height

approx. 1.18 m

CE Category

C-Coastal waters

Material

Polyester (DSM ISO-NPG Lloyds-tested)

Standard motorisation

27 hp 3 cylinder Vetus diesel engine
Construction sloop

Rounded stern sloop with integrated bathing platform

Strengthened polyester engine bed
Hull sloop

Integrated bathing platform including synthetic teak with 7NXT logo

Stern access door leading to integrated bathing platform

LED navigation lights (red/green in bow) and sternlight

Stainless steel bow protection strip

Stainless steel finish on stern (2)

Choice of waterline colours

Antifouling (2-layers) with polyester primer

Standard hull colours RAL 9010 (pure white) or RAL 1013 (off white)
Deck sloop

Canopy with folding front frame and sloping rear section

Stainless steel fairleads (4)

Stainless steel bollards (3)

Stainless steel cleats (6)

Stainless steel flagpole socket

Anchor locker in foredeck with drain

LED white navigation light with 360° radius, removeable

Standard deck colours RAL 9010 (pure white) or RAL 1013(off white)
Cockpit sloop

Steering console including stainless steel steering wheel with teak ring 50 cm Ø

Engine panel with rev counter, fuel gauge and digital hour meter

Seat cushion set in a choice of colours, including matching buttons and piping

Back cushion set in a choice of colours, including matching buttons and piping

Synthetic teak access steps with large storage compartments

Synthetic teak on engine box

Synthetic teak finish on integrated swimming platform

All-round gunwale in synthetic teak – choice of colour

Lockable toilet compartment in the bow

Chemical toilet (Porta Potti)

Large storage compartments under the seating (4)

Specially insulated engine compartment; with stainless steel grip and stainless steel opening for fire extinguishing
Sloop technology

27 hp 3 cylinder Vetus diesel engine

Mechanical (cable) steering

Water-lubricated propshaft

3-blade propeller and zinc anode
Safety

Fuel valve and water separator/fuel filter

Main switch in storage compartment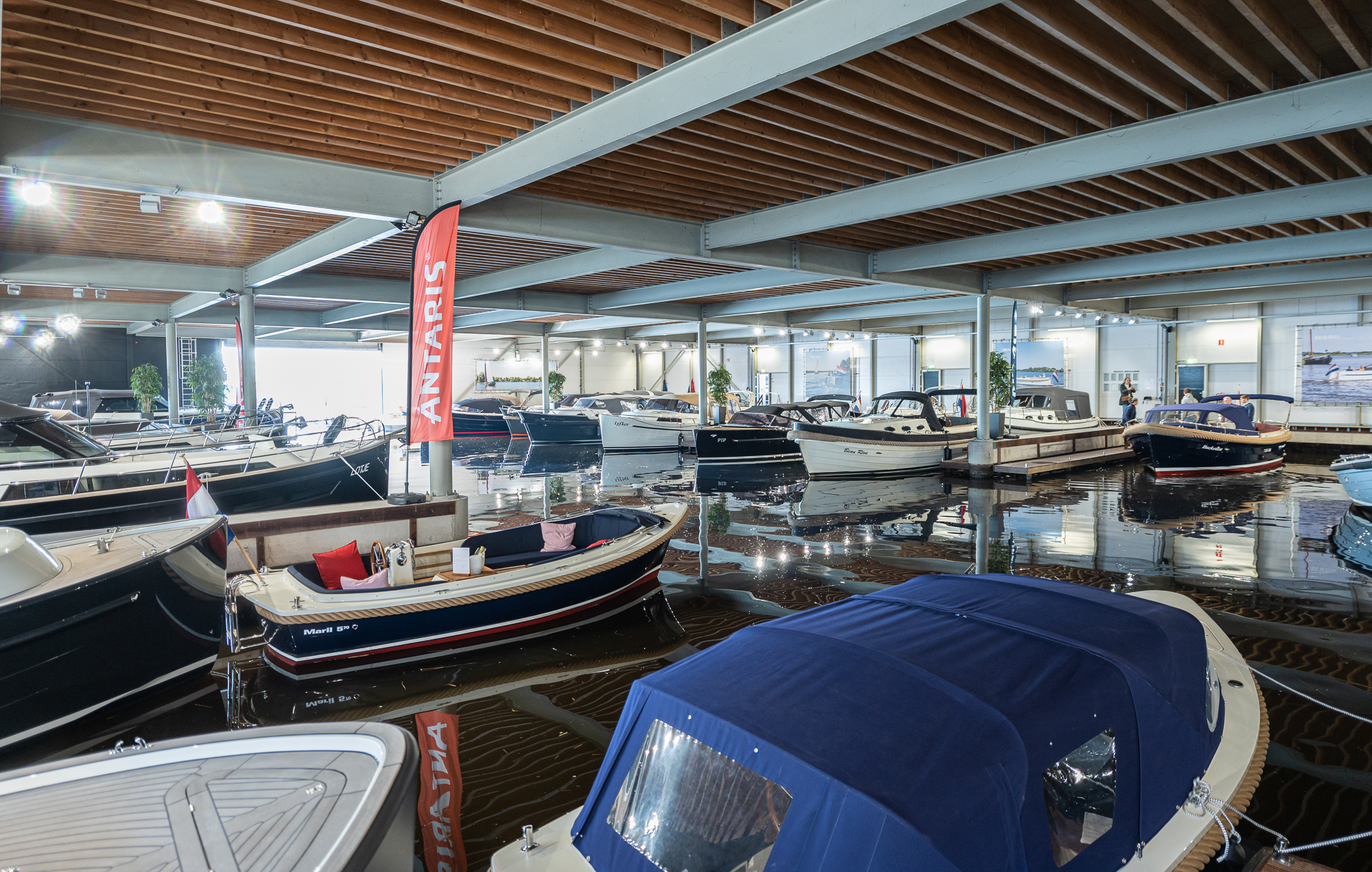 Visit the most beautiful
showroom of the Netherlands
Take a digital look around our 1500 m2 showroom or contact us for a trial run.
Downloads
View or download the maril 7NXT brochure and price list below:
Discover all models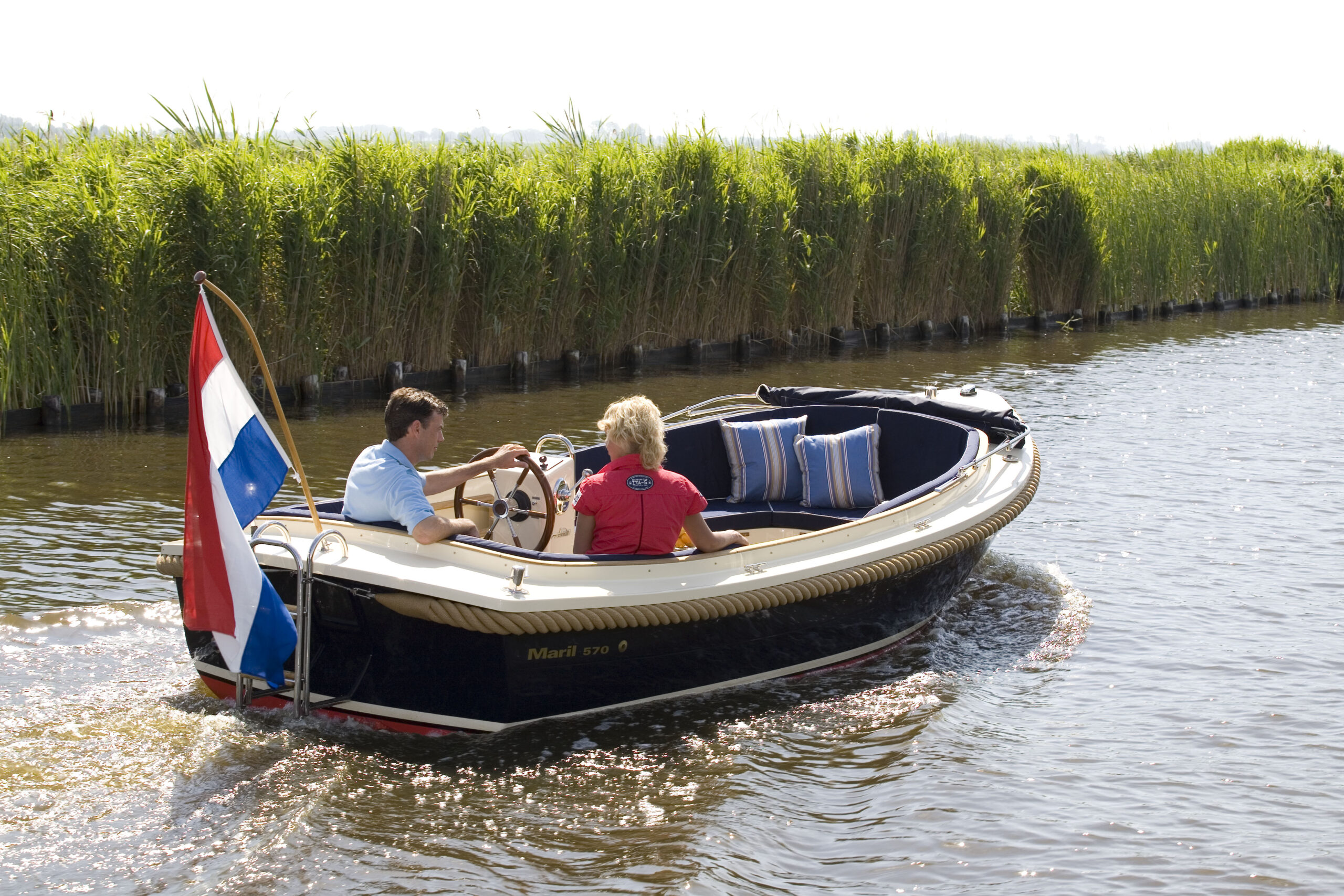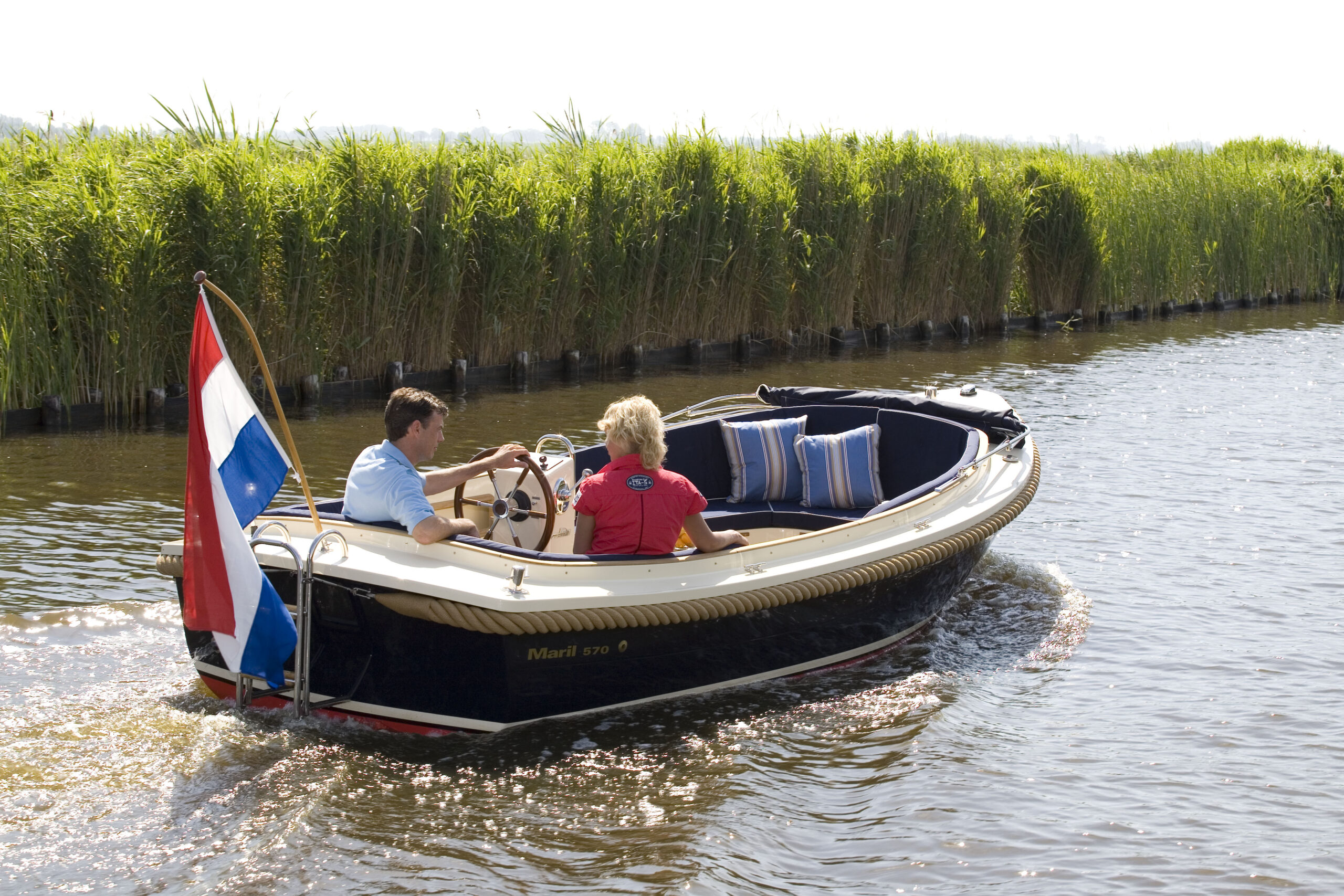 Maril 570
| | |
| --- | --- |
| Length | 5,70 m |
| Width | 2,32 m |
| Sloop draught | approx. 0,50 m |
| Sloop clearance height | approx. 0,95 m |
| CE-category | C-Coastal waters |
| Number of persons | 6 |
Maril 625
| | |
| --- | --- |
| Length | 6,25 m |
| Width | 2,44 m |
| Sloop draught | approx. 0,55 m |
| Sloop clearance height | approx. 1,00 m |
| CE-category | C-Coastal waters |
| Number of persons | 7 |
Maril 6NXT
| | |
| --- | --- |
| Length | 6,40 m |
| Width | 2,60 m |
| Sloop draught | approx. 0,70 m |
| Sloop clearance height | approx. 1,10 m |
| CE-category | C-Coastal waters |
| Number of persons | 12 |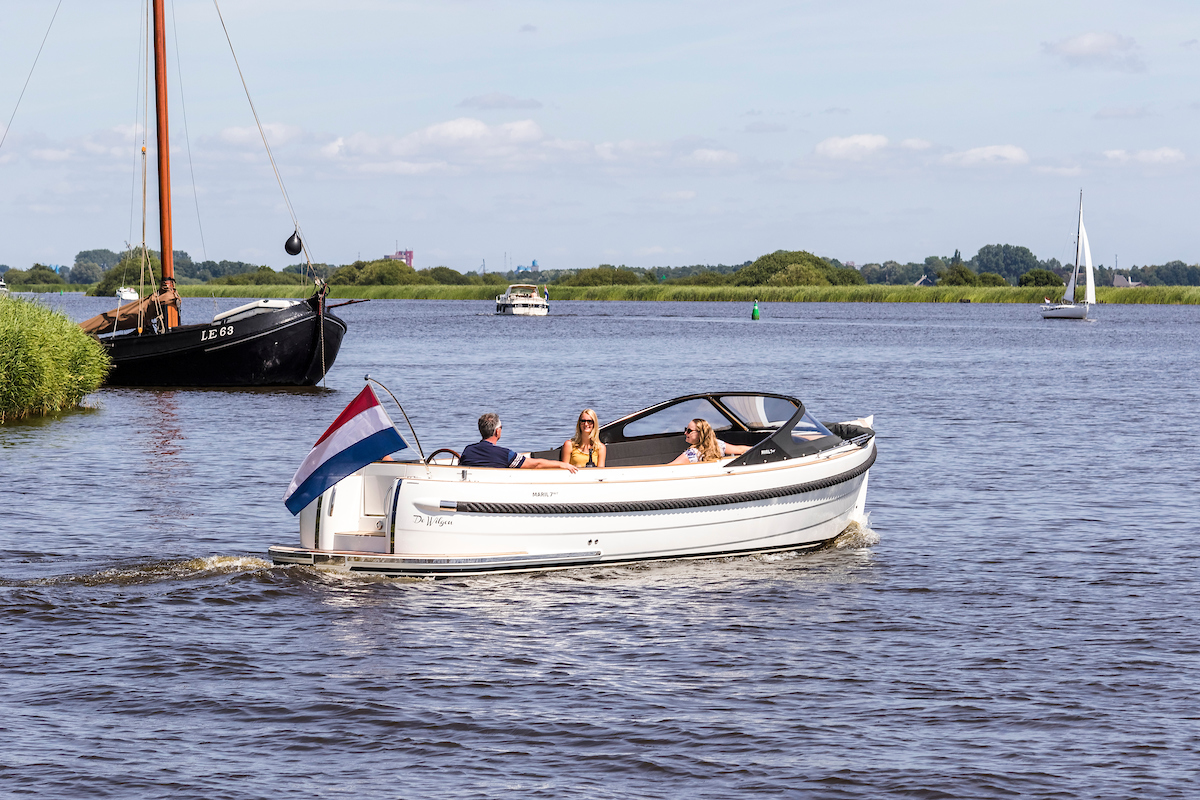 Maril 7NXT
| | |
| --- | --- |
| Length | 7,50 m |
| Width | 2,85 m |
| Sloop draught | approx. 0,80 m |
| Sloop clearance height | approx. 1,18 m |
| CE-category | C-Coastal waters |
| Number of persons | 17 |
Maril 725
| | |
| --- | --- |
| Length | 7,25 m |
| Width | 2,75 m |
| Sloop draught | approx. 0,65 m |
| Sloop clearance height | approx. 1,15 m |
| CE-category | C-Coastal waters |
| Number of persons | 10 |
Maril 880
| | |
| --- | --- |
| Length | 8,80 m |
| Width | 3,47 m |
| Sloop draught | approx. 0,70 m |
| Sloop clearance height | approx. 1,40 m |
| CE-category | C-Coastal waters |
| Number of persons | 16 |
Maril 880 Cabin
| | |
| --- | --- |
| Length | 8,80 m |
| Width | 3,47 m |
| Sloop draught | approx. 0,70 m |
| Sloop clearance height | approx. 1,65 m |
| CE-category | C-Coastal waters |
| Number of persons | 8 |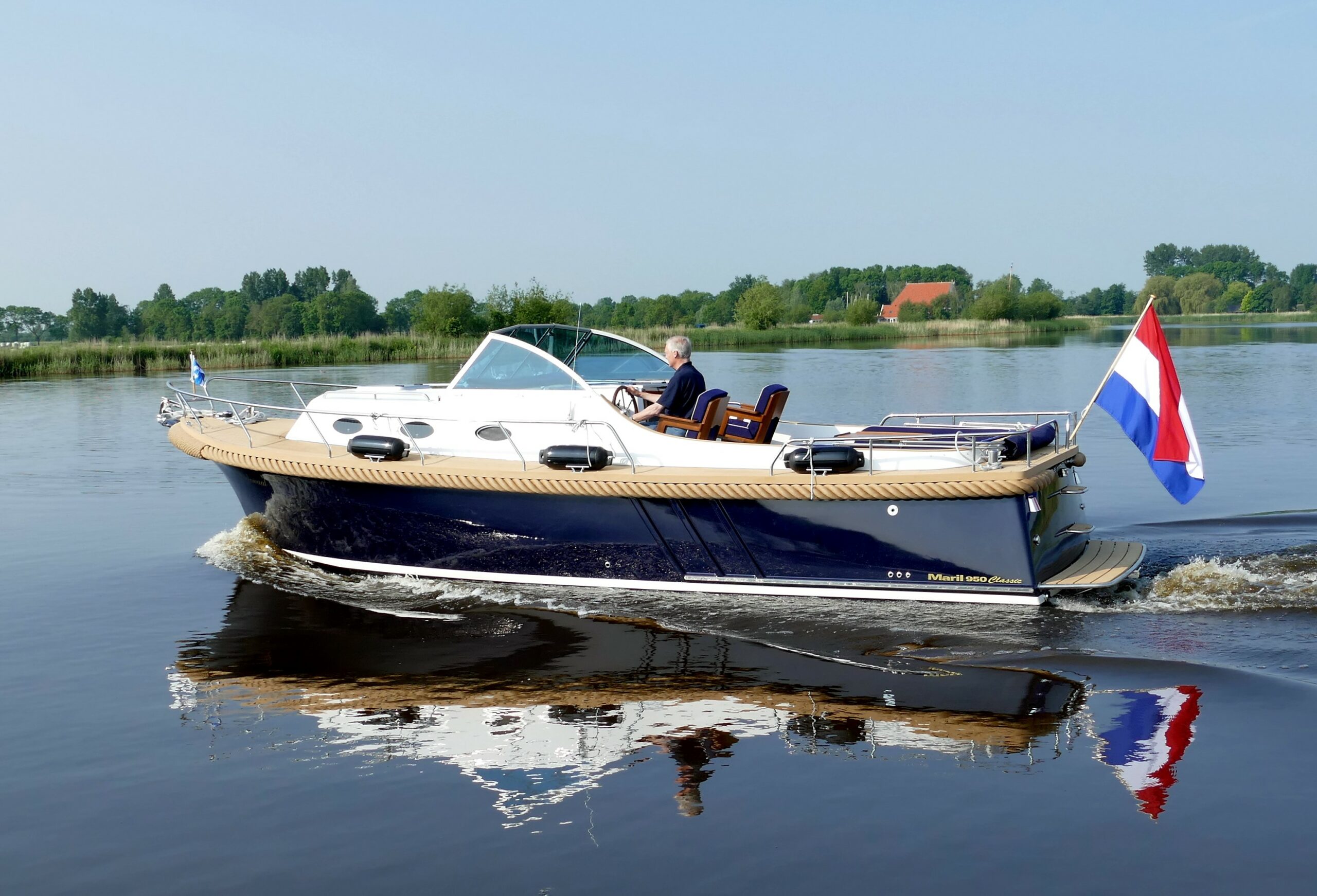 Maril 950 Classic
| | |
| --- | --- |
| Length | 9,50 m |
| Width | 2,95 m |
| Sloop draught | approx. 0,75 m |
| Sloop clearance height | approx. 1,80 – 2,55 m |
| CE-category | C-Coastal waters |
| Number of persons | 10 |