Maril 725
Stylish and robust sloop
Dimensions
7.25 m x 2.75 m
Optional with
Spacious sun bed
Maril 725
from € 47.500,-
Stylish and robust sloop
The Maril 725 is a spacious elegant sloop with a clinker-lined hull. With this spacious sloop, you can go on the water with no less than 10 adults. The Maril 725 is a stable sloop thanks to its width and underwater hull, even with many people on board.
Sloop with lots of storage space
The Maril 725 has a lot of storage space. In the cockpit you will find five large storage compartments under the seats and two large storage compartments under the steps. This way, your belongings are protected against an unexpected rain shower and everything is neatly stored out of sight. This allows you to make the most of the available walking and seating space of your sloop.
Many luxury extras
When you purchase a new Maril 725 you can choose from many luxury extras. You can choose a stainless steel swimming ladder with teak steps. It is also possible to convert the front seats into a spacious sun bed. This also creates two sleeping accommodation on board. The cooling drawer in the front keeps your snacks and drinks cool all day long. With our sloop configurator, you can easily view all possible options and put together your dream sloop.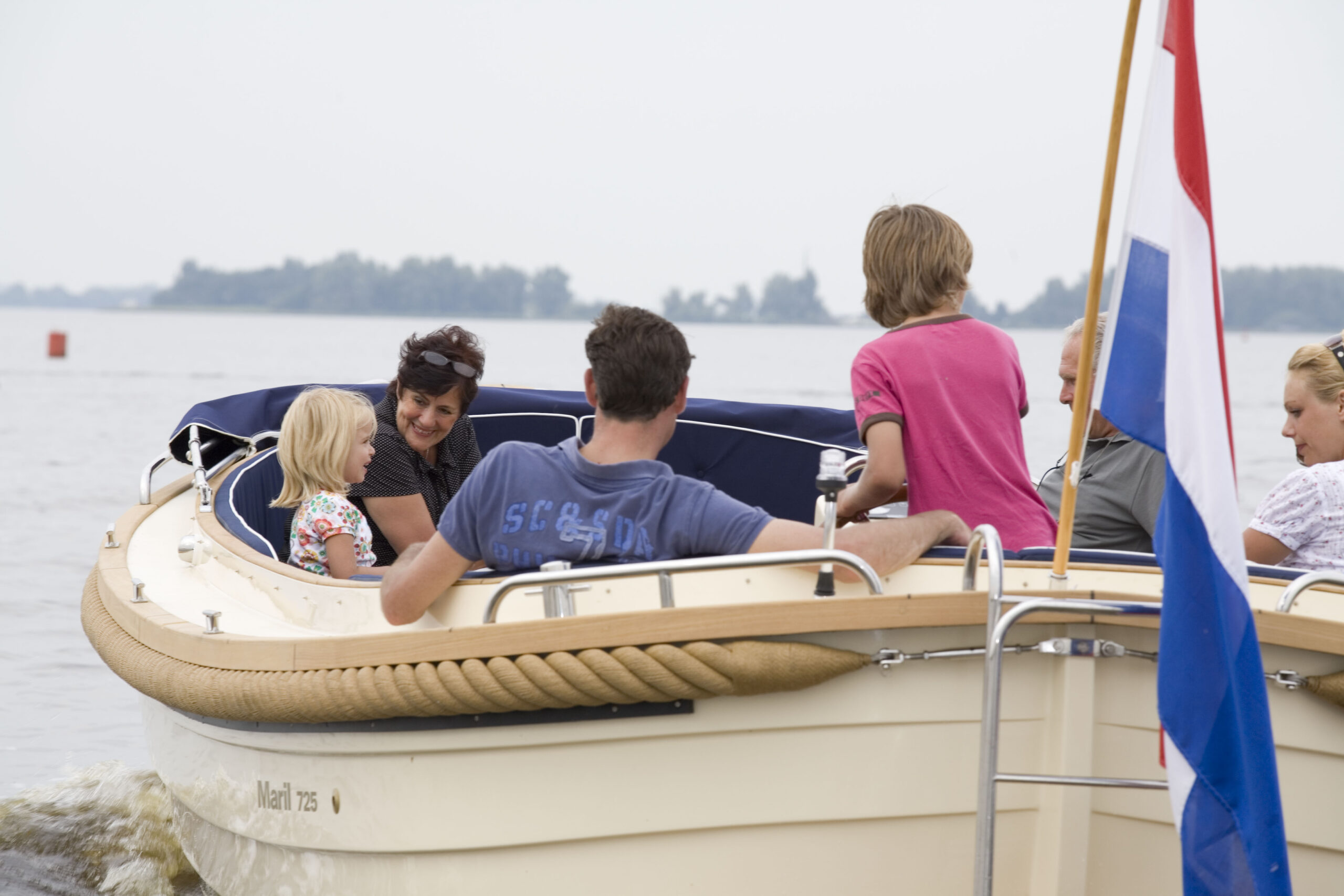 Sloop with classic design
The Maril 725 owes her classic appearance to the clinker-lined hull. Furthermore, the sloop is finished with robust cable fenders (choice of various colours) all around, for the typical Maril appearance. In addition, the top of the engine box and the steps are covered with durable, low-maintenance synthetic teak as standard.
Specifications Maril 725
See all the specifications of the Maril 725 below
General

Sloop draught

approx. 0.65 m

Sloop clearance height

approx. 1.15 m

CE Category

C-Coastal waters

Material

Polyester (DSM ISO-NPG Lloyds-tested)

Standard motorisation

27 hp 3 cylinder Vetus diesel engine
Construction sloop

Strengthened polyester engine bed
Hull sloop

LED navigation lights (red/green in bow) and sternlight

Stainless steel trim tabs; fixed mounting (from 42 hp)

Choice of waterline colours

Antifouling (2-layers) with polyester primer

Standard hull colours RAL 9010 (pure white) or RAL 1013 (off white)
Deck sloop

Canopy with folding front frame and sloping rear section

Stainless steel bollards (3)

Stainless steel cleats (6)

Stainless steel flagpole socket

Anchor locker in foredeck with drain

LED white navigation light with 360° radius, removeable

Standard deck colours RAL 9010 (pure white) or RAL 1013 (off white)
Cockpit sloop

Steering console including stainless steel steering wheel with teak ring 50 cm Ø

Luxury single lever motor control

Engine panel with rev counter, fuel gauge and digital hour meter

Seat cushion set in a choice of colours, including matching buttons and piping

Back cushion set in a choice of colours, including matching buttons and piping

Synthetic teak frame around fire extinguisher storage compartment in steering console

Synthetic teak access steps with large storage compartments

Specially insulated engine compartment; with stainless steel grip and stainless steel opening for fire extinguishing

Synthetic teak on engine box

Large storage compartments under the seating (5)
Sloop technology

27 hp 3 cylinder Vetus diesel engine

Mechanical (cable) steering

Approx 100 litres stainless steel fuel tank

Water-lubricated propshaf

3-blade propeller and zinc anode
Safety

Fuel valve and water separator/fuel filter

Main switch in storage compartment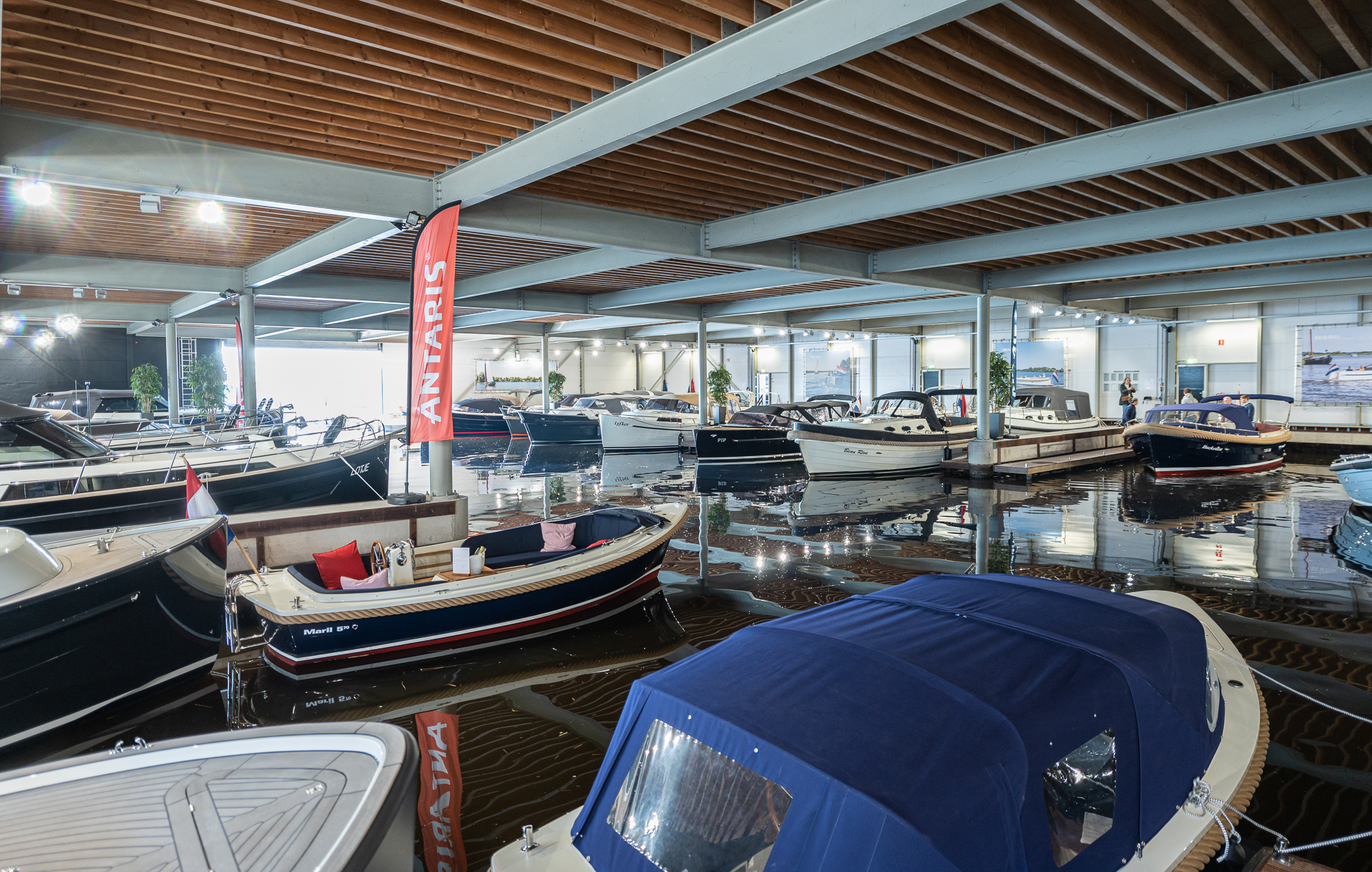 Visit the most beautiful
showroom of the Netherlands
Take a digital look around our 1500 m2 showroom.Or contact us for a trial run.
Downloads
View or download the Maril 725 brochure below:
Discover all models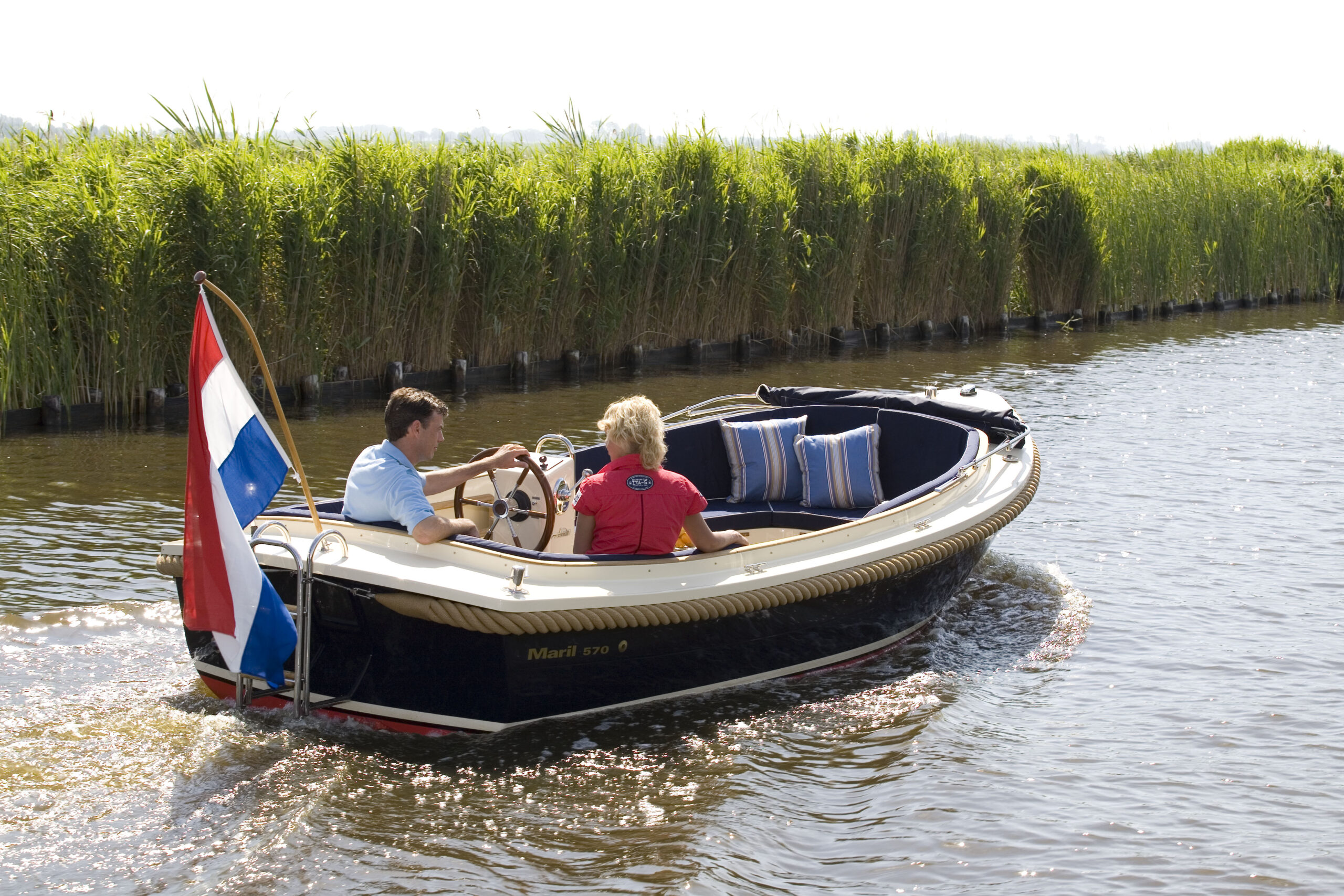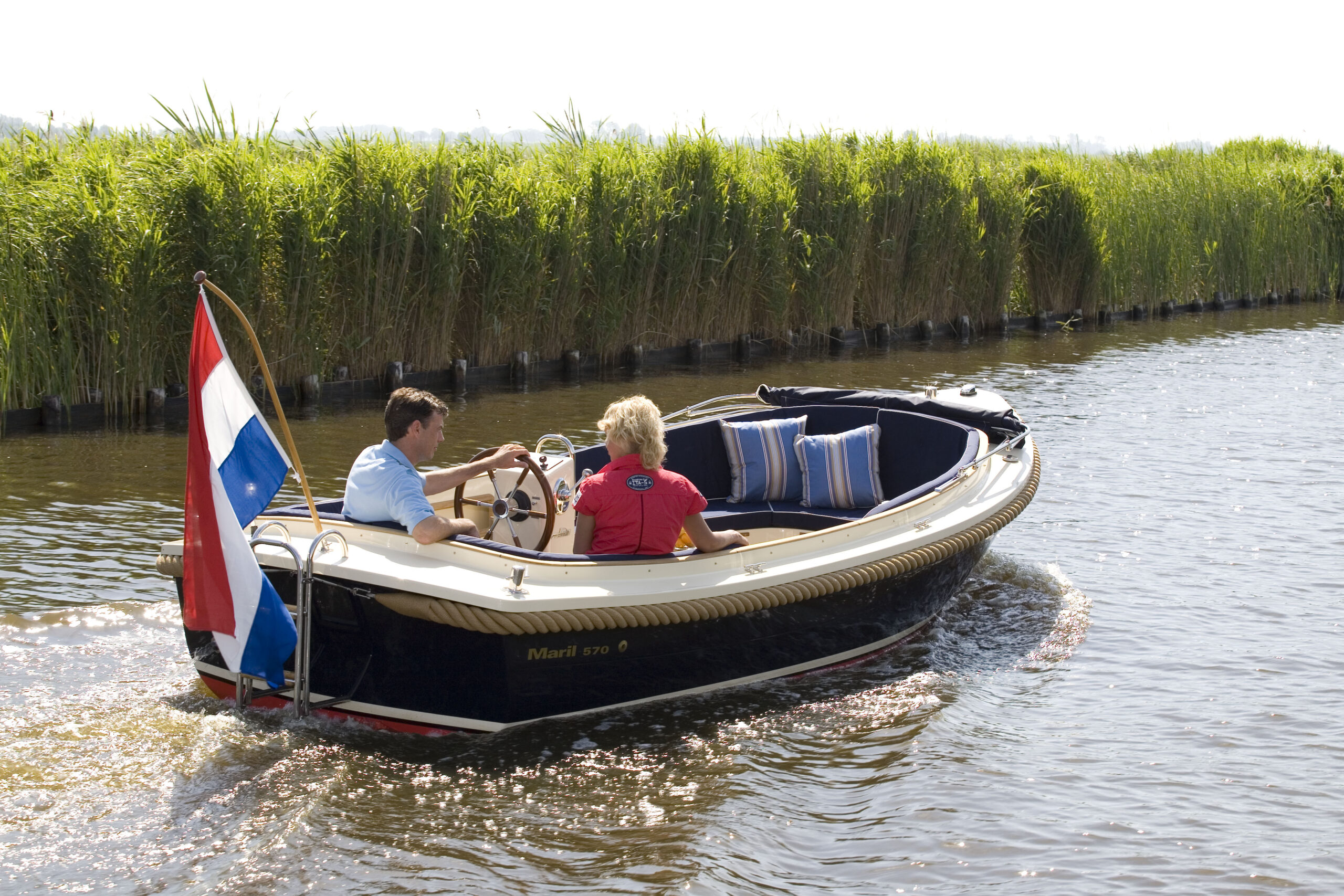 Maril 570
| | |
| --- | --- |
| Length | 5,70 m |
| Width | 2,32 m |
| Sloop draught | approx. 0,50 m |
| Sloop clearance height | approx. 0,95 m |
| CE-category | C-Coastal waters |
| Number of persons | 6 |
Maril 625
| | |
| --- | --- |
| Length | 6,25 m |
| Width | 2,44 m |
| Sloop draught | approx. 0,55 m |
| Sloop clearance height | approx. 1,00 m |
| CE-category | C-Coastal waters |
| Number of persons | 7 |
Maril 6NXT
| | |
| --- | --- |
| Length | 6,40 m |
| Width | 2,60 m |
| Sloop draught | approx. 0,70 m |
| Sloop clearance height | approx. 1,10 m |
| CE-category | C-Coastal waters |
| Number of persons | 12 |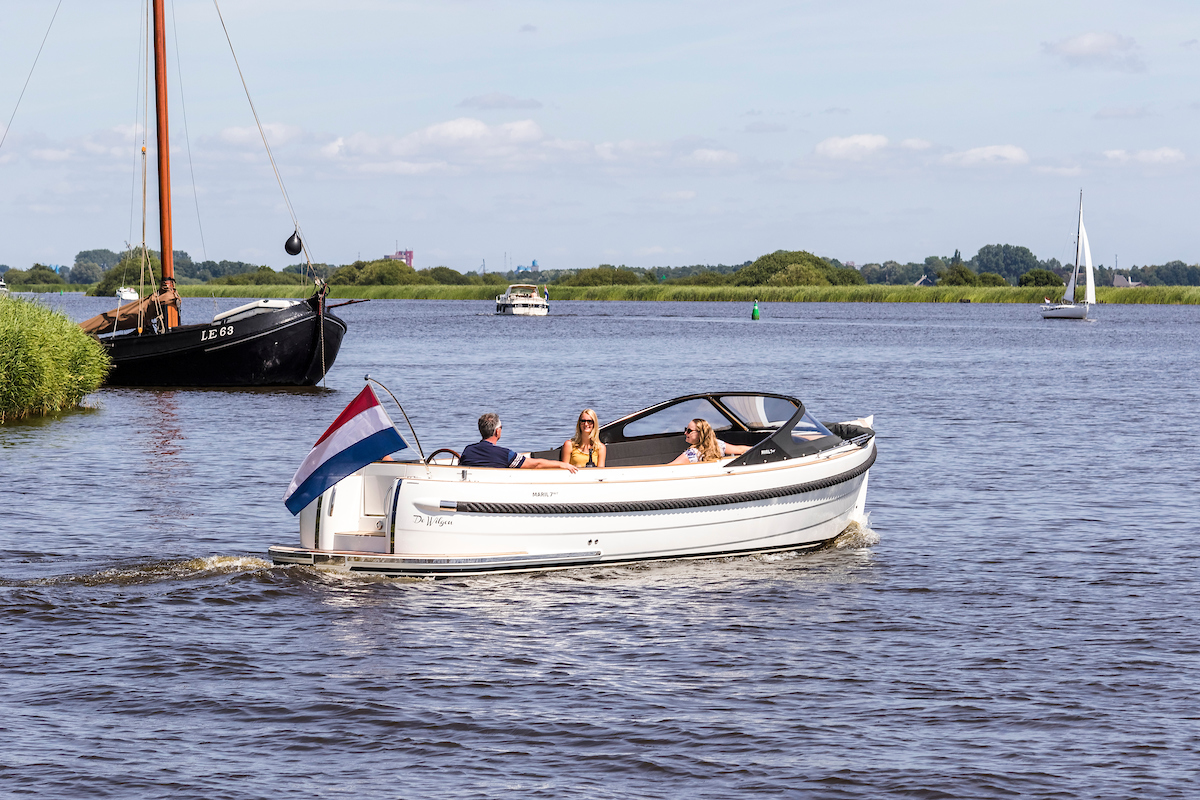 Maril 7NXT
| | |
| --- | --- |
| Length | 7,50 m |
| Width | 2,85 m |
| Sloop draught | approx. 0,80 m |
| Sloop clearance height | approx. 1,18 m |
| CE-category | C-Coastal waters |
| Number of persons | 17 |
Maril 725
| | |
| --- | --- |
| Length | 7,25 m |
| Width | 2,75 m |
| Sloop draught | approx. 0,65 m |
| Sloop clearance height | approx. 1,15 m |
| CE-category | C-Coastal waters |
| Number of persons | 10 |
Maril 880
| | |
| --- | --- |
| Length | 8,80 m |
| Width | 3,47 m |
| Sloop draught | approx. 0,70 m |
| Sloop clearance height | approx. 1,40 m |
| CE-category | C-Coastal waters |
| Number of persons | 16 |
Maril 880 Cabin
| | |
| --- | --- |
| Length | 8,80 m |
| Width | 3,47 m |
| Sloop draught | approx. 0,70 m |
| Sloop clearance height | approx. 1,65 m |
| CE-category | C-Coastal waters |
| Number of persons | 8 |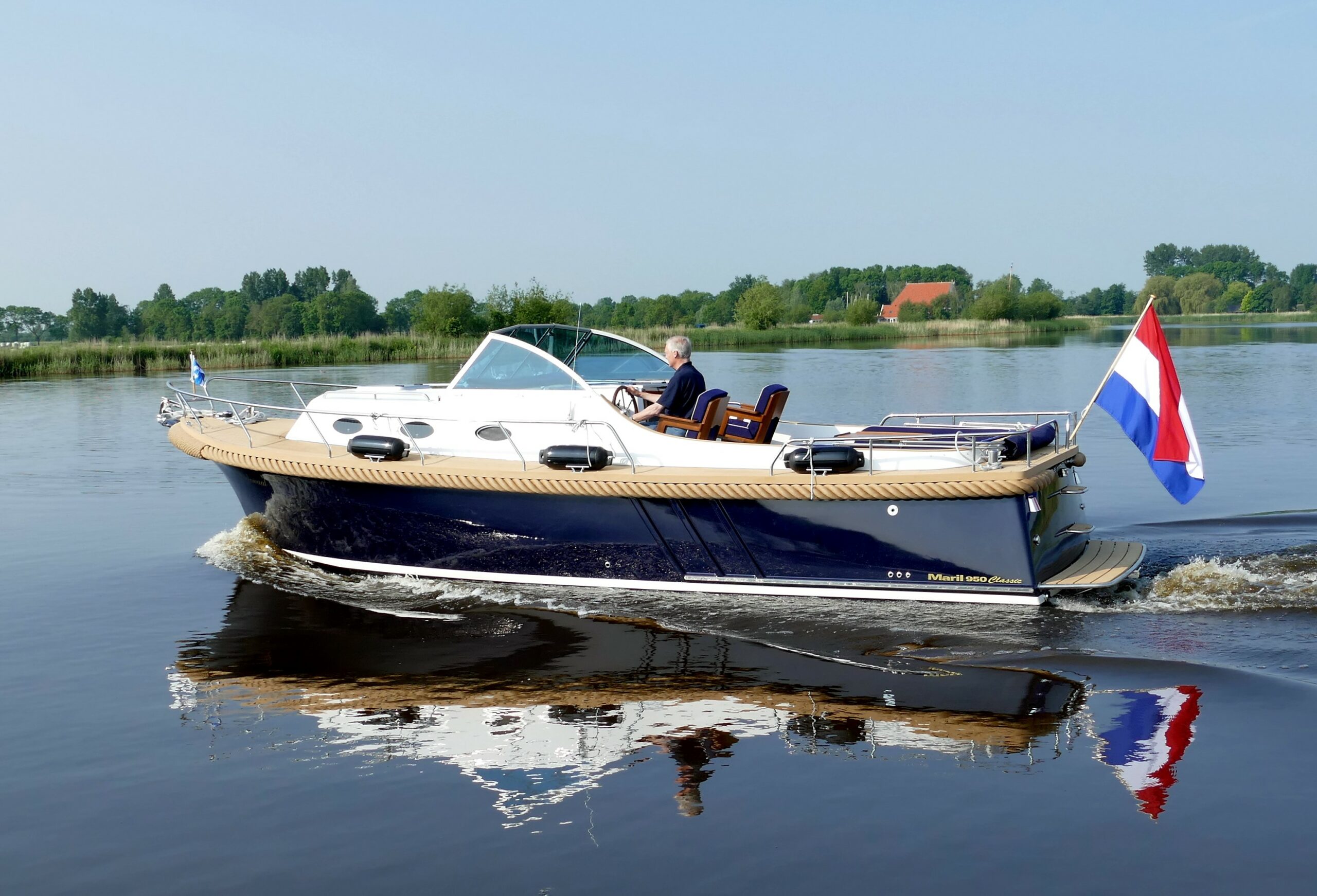 Maril 950 Classic
| | |
| --- | --- |
| Length | 9,50 m |
| Width | 2,95 m |
| Sloop draught | approx. 0,75 m |
| Sloop clearance height | approx. 1,80 – 2,55 m |
| CE-category | C-Coastal waters |
| Number of persons | 10 |